Phinizy Swamp nature journal excerpt from April 30, 2021...
Walking along the feeder canal that runs through the middle of the Phinizy Swamp Nature Center impounds, I heard the most pathetic frog calling. Looking into the green slime and bubbles, I saw an American Bullfrog twisting and turning, apparently drowning. But after my attention was fully fixed, I found the cause. A long, thin (and probably very hungry) Banded Watersnake was attached to the bullfrog's leg!
Predator and prey both struggled for some time – the bullfrog to get away, the watersnake to swallow a meal that looked a bit too big. In the five minutes I watched, the watersnake was able to maneuver the frog in his mouth, swallow one back leg, and try to fold the other leg forward as it attempted to engulf the frog's torso.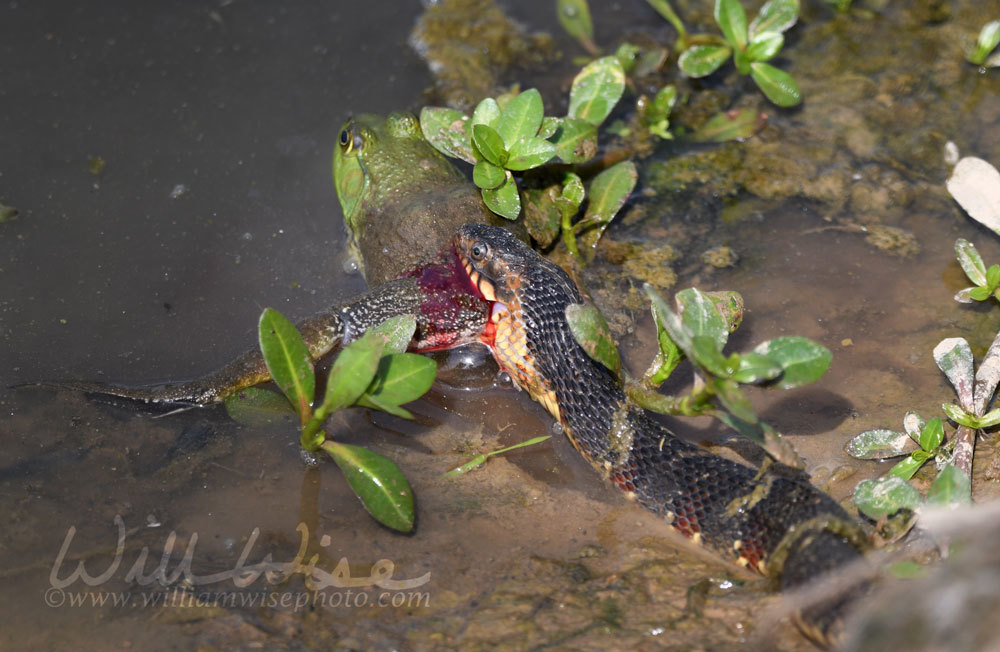 © Photographer: William Wise | iNat Observation: 77635303 - Banded Watersnake and American Bullfrog; Phinizy Swamp Nature Park, Georgia. April 30, 2021.
​
It was getting late and I could not watch the end of the struggle. But knowing the unhinging jaws and stretching skin of the reptile, the frog's struggle probably ended with the satisfaction of the watersnake's appetite.
Phinizy Swamp Nature Park; Richmond County, Augusta, Georgia. April 30, 2021
​Sunny, high 84 F
Sunrise 6:40 AM; Sunset 8:10 PM
Day length 13 hours, 29 minutes (+1min 46sec)
Posted by

williamwisephoto
, May 09, 2022 06:49 PM