Observational Highlight #5: Chimaphila maculata (Spotted Wintergreen)
Virginia Outdoors Foundation - Bull Run Mountains Natural Area Preserve
---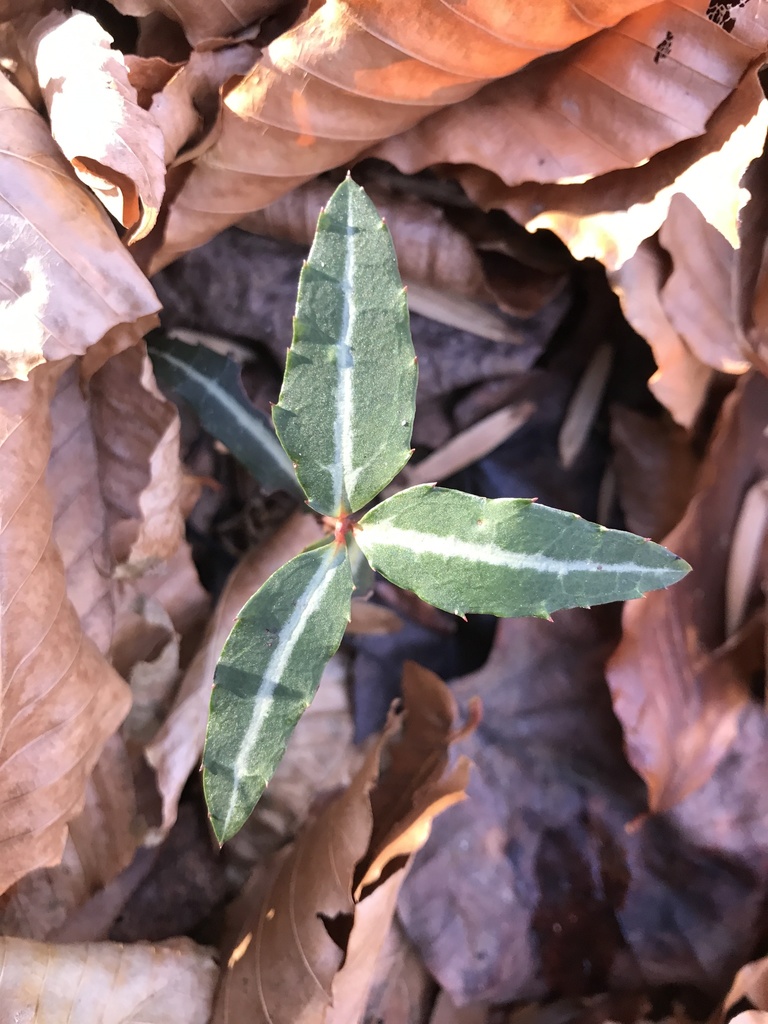 © Susan Parent, all rights reserved
---
It's December already? Wow, this year has flown by!
It might be raining like April, but winter is right around the corner. To celebrate the soon-to-be changing seasons we will be focusing on preserve species that will be easy to spot and identify!
This week's observational highlight is Chimaphila maculata, or the spotted wintergreen! This individual was observed by preserve visitor and citizen scientist Susan Parent (iNat user @susanparent) last December! Thank you Susan for uploading your observations from your visit :)
Also referred to as striped wintergreen, the spotted wintergreen is a small perennial evergreen that can be found along the trails throughout the preserve. The species is adapted to growing in relatively infertile, acidic soil which is the common substrate in the rocky terrain of the Bull Run Mountains. The species belongs to the family Ericaceae, which includes blueberries, huckleberries, and rhododendrons. This family is remarkably well represented along the ridges and hollows of the preserve.
Among the blanket of dead leaves of the forest floor, you will likely find the small green leaves of the spotted wintergreen. Their distinctive white-veined leaves and red stems make them easy to identify once you've picked them out from the groundcover.
A dot of green is always a welcome change from the brown and orange of winter, so keep those peepers primed! There is always green to be had as long as you look. That lack of color can deter many of us from exploring the outdoors, but there is always something new to stumble across outdoors!
---
ABOUT #BullRunMountainsNaturalPreserve
The Bull Run Mountains are the easternmost mountains in Virginia. The Virginia Outdoors Foundation's Bull Run Mountains Natural Area Preserve is approximately 2,350 acres that serve as a living laboratory that sits in the backyard of our nation's capital. The preserve contains 10 different plant community types and a plethora of regionally uncommon and threatened plant and animal species. In 2002, this land was dedicated by the Virginia Department of Conservation and Recreation as a natural area preserve to protect the unique ecosystems found here. As the owner and manager of the preserve, the Virginia Outdoors Foundation is committed to protecting the special ecosystem found here and sharing it with the public through managed access.
Follow us on Social Media!
Instagram: @bullrunmountains
Facebook: Virginia Outdoors Foundation (Bull Run Mountains Natural Area Preserve)
Our website: VOF RESERVES: Bull Run Mountains Natural Area Preserve
Meetup Events: Bull Run Mountains Natural Area Preserve Guided Hikes Group