Observational Highlight #16: Monotropa hypopitys (Pinesap)
Virginia Outdoors Foundation - Bull Run Mountains Natural Area Preserve
---
Monotropa hypopitys (Pinesap): A recent observation of pinesap along the southern section of The Preserve.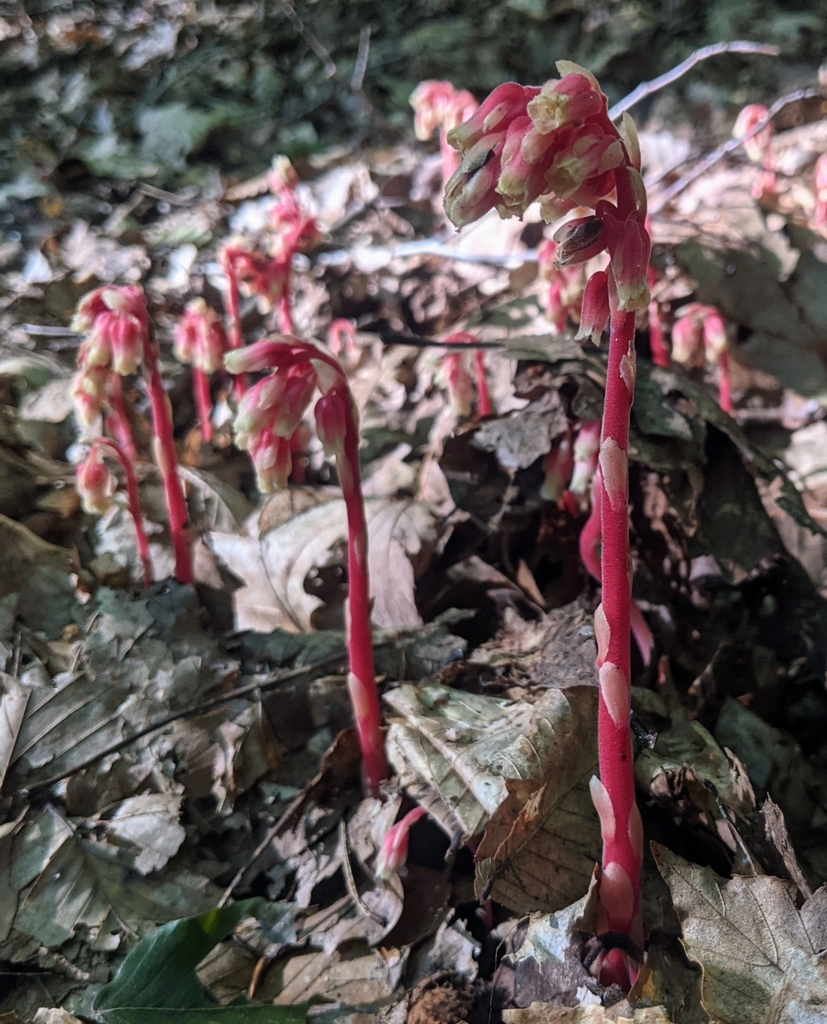 © @forestbathing, some rights reserved (CC-BY-NC)
---
Hello everyone,
Welcome back to another installment of our weekly observational highlight series for the Bull Run Mountains Natural Area Preserve. Last weekend the preserve held a successful herpetological-focused BioBlitz, resulting in the observation of some amazing amphibian and reptile species. While we wait for all resulting photos and notes to be uploaded to the project by the participants we will be taking a look at an amazing, but scales-less species found in our mountain sanctuary. Don't worry herp enthusiast, there are much more reptiles and amphibian content to come - especially in future #biodiversityhightlights. While herps abounded, another botanical species is abounding across the Bull Run forests - Pinesap! Monotropa hypopitys, an achlorophyllous and mycoheterotrophic plant widely distributed across the United States are currently in bloom here in Northern Virginia. At a quick glance, this species of the non-photosynthesizing plant could be misidentified as some sort of fungus, however, upon closer inspection, these species boast conspicuous flowers with a fragment, pungent smell. We're in the second flowering season of the year, so if you happen to miss these while out visiting the preserve, keep your eyes out in the spring!
Like many native species, Pinesap is known by a variety of colloquial names, including Dutchman's pipe, false beech-drops, pinesap, or yellow bird's-nest. Some of these seem more understandable than others, but the appearance of this plant can vary dramatically as it ages and the surface growth dies. The similarities between the dead above-ground growth of this species are incredibly reminiscent of beech drops, Epifagus virginiana (another parasitic native plant), which is reflected in the common name false beech drop (see below). It also has a very similar appearance to another species of Monotropa found on The Preserve, ghost pipe, Monotropa uniflora. A quick and dirty method of identification for these species can be done by the stark difference in color between species, though rare variances can create overlap. We'll save a more intricate series of identification methods in a future review of the Genus.
The roles in which this species plays in the greater ecosystem are incredibly interesting and deserve a more in-depth discussion in a future #biodiversityhighlight. Until then, keep your eyes primed for more amazing Autumnal natural phenomena!
---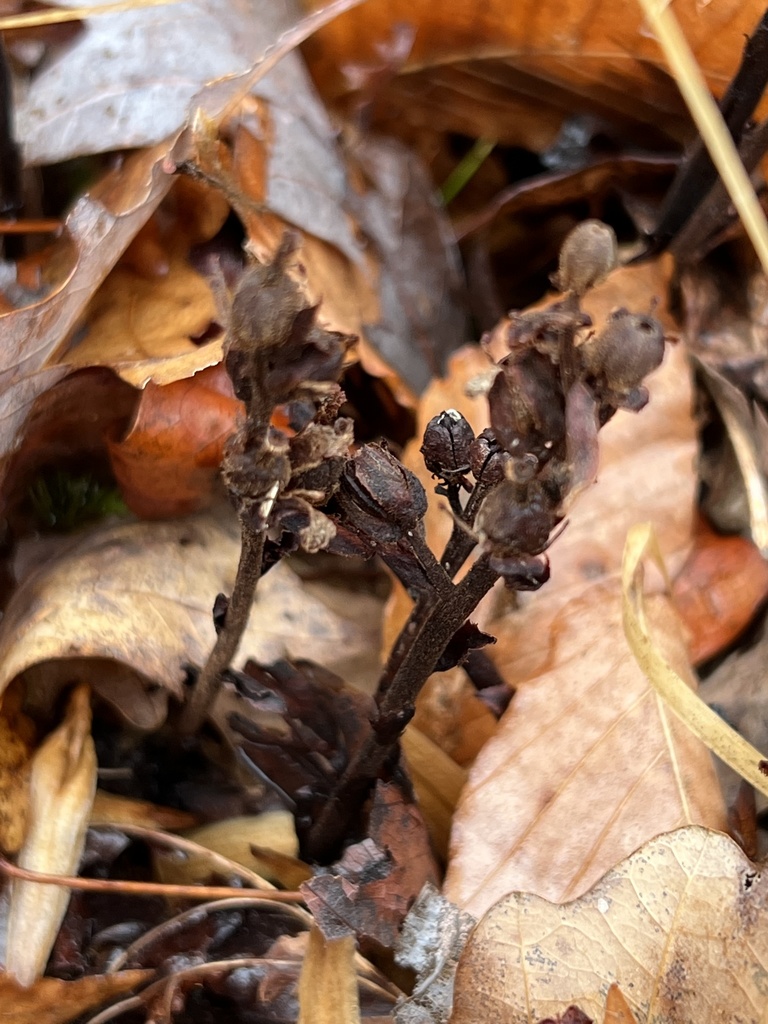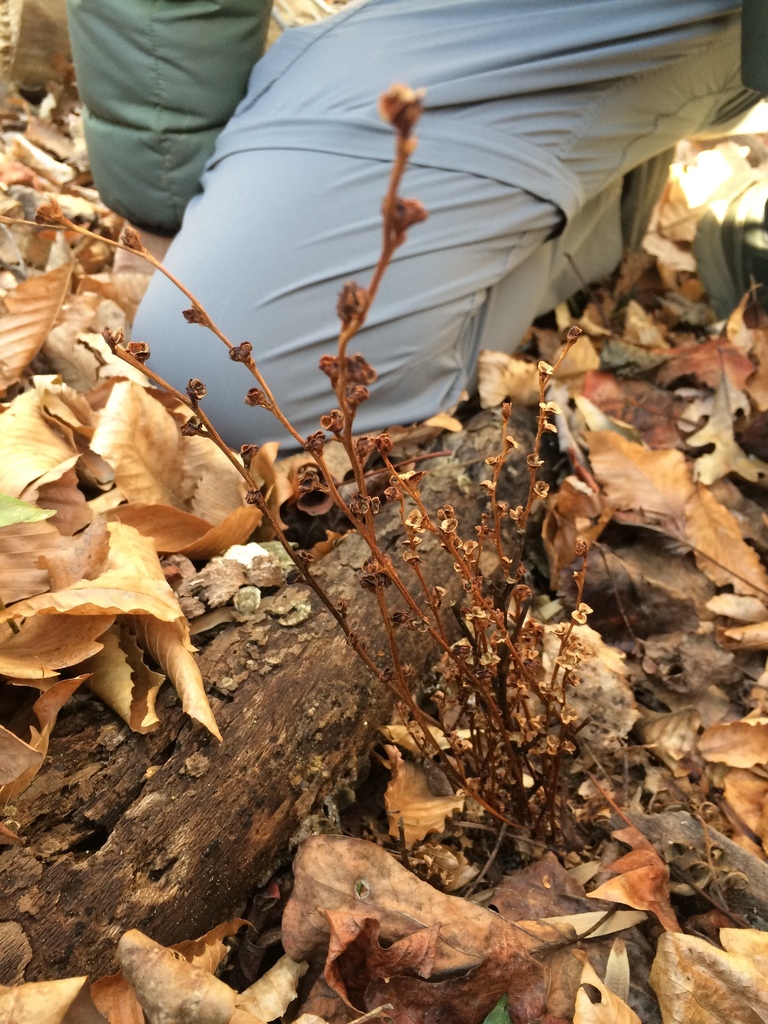 © Izabella Farr (@izafarr), some rights reserved (CC-BY-NC) [Left]; © @lisam, some rights reserved (CC-BY-NC)
---
Thank you for reading! If you enjoyed this short article please leave a comment below to help us gauge community impact for our annual summary. Additionally, if you have any questions, comments, or corrections leave them below. While niche, this platform provides a unique opportunity for naturalists, professionals, and enthusiasts to share their insights and stories regarding the amazing biodiversity that surrounds all of us. If you are interested in visiting the Bull Run Mountains Natural Area preserve or attending public events, please check the links below for more information.
Please note that the VOF owned and operated Bull Run Mountains Natural Area Preserve is protected by the Commonwealth of Virginia under the Virginia Department of Conservation Recourses. Except for certain specific situations, camping, fires, unleashed pets, hunting, off-road vehicles and removal or destruction of plants, animals, minerals or historic artifacts are prohibited. Please respect our community natural and cultural resources.
ABOUT #BullRunMountainsNaturalPreserve
The Bull Run Mountains are the easternmost mountains in Virginia. Virginia Outdoors Foundation - Bull Run Mountains Natural Area Preserve is approximately 2,350 acres that serve as a living laboratory that sits in the backyard of our nation's capital. The preserve contains 10 different plant community types and a plethora of regionally uncommon and threatened plant and animal species. In 2002, this land was dedicated by the Virginia Department of Conservation and Recreation as a natural area preserve to protect the unique ecosystems found here. As the owner and manager of the preserve, the Virginia Outdoors Foundation is committed to protecting the special ecosystem found here and sharing it with the public through managed access.
Follow us on Social Media!
Instagram: @bullrunmountains
Facebook: Virginia Outdoors Foundation (Bull Run Mountains Natural Area Preserve)
Our website: VOF RESERVES: Bull Run Mountains Natural Area Preserve
Meetup: Public events: Bull Run Mountains Natural Area Preserve Guided Hikes Group
Meetup: Volunteer opportunities: Bull Run Mountains Natural Area Preserve Volunteers
Posted on
29 de septiembre de 2022
by

mjwcarr